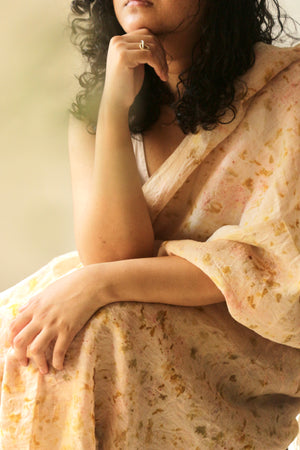 Pre Order - Plant Dyed Cotton & Silk Saree
Sale price Price Rs. 8,900.00 Regular price
A blend of handwoven cotton & silk plant-dyed with Marigold petals, Onion Skin, Aster with specks of Indian Madder & Alkanet. 
The fabric is light, airy, and perfect for an effortless saree. The colours derived directly from natural plant material look beautiful on the saree and it's like being wrapped in nature. We can honestly live in this saree. 
Please Note: This is available for pre-order which means that it will be hand dyed after your order is placed and will be dispatched within 3 weeks. We are offering this product at a special introductory price which will be valid for a limited period of time. 
Fabric: 100% Handwoven Cotton & Silk blend
Hand-dyed with: Onion Skin, Marigold, Aster, Alkanet & Indian Madder
Length: 6.5 meters which includes 1 meter for the blouse

Naturally Dyed
Hand-Dyed
Hand Woven
Ethically Made
Sustainable
Zero Waste
Handmade in India
This product has been hand-dyed naturally using elements of nature like roots, flowers, leaves, seeds, and minerals. Therefore, each product is unique due to the slight imperfections and irregularities which occur during the natural dyeing process.