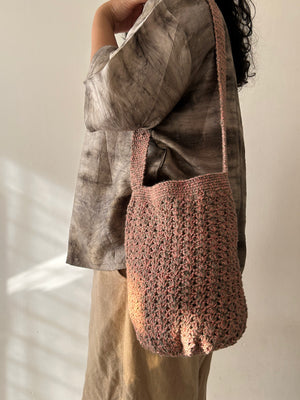 Meadow Crochet Bag
Sale price Price Rs. 2,750.00 Regular price
This collection of 11 crochet bags holds a very special place for us. Each bag is meticulously crafted by the loving hands of our grandmother, a talented crocheter who finds joy and fulfilment in her craft.
She loves spending her time crocheting and ended up making a whole batch of them. She was overjoyed to know that we would be sharing her creations through our brand for people to purchase. With every stitch, she weaves not just yarn but also stories and memories. 
The bags are made using plant dyed cotton yarn in various colours. All the colours for each bag for also carefully picked by her. 
Hand Dyed with: Marigold flowers, Onion Skin, Madder Root & Sappan Wood
Naturally Dyed
Hand-Dyed
Ethically Made
Sustainable
Zero Waste
Handmade in India
This product has been hand-dyed naturally using elements of nature like roots, flowers, leaves, seeds, and minerals. Therefore, each product is unique due to the slight imperfections and irregularities which occur during the natural dyeing process.