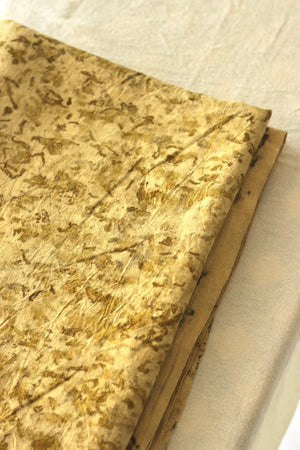 Marigold Handwoven Khadi Cotton Fabric - 1.4 meters
Sale price Price Rs. 1,275.00 Regular price
Handwoven Khadi Cotton fabric made by weavers in West Bengal bundle dyed with Marigold petals which were collected from local temples. 
All our pieces are hand dyed in small batches with a lot of care and intention at our studio in Mumbai. Plant dyeing makes each piece unique and truly one of a kind. 
Fabric: 100% Handoven Khadi Cotton
Dye Material Used: Marigold Petals
Length: 1.4 meters; Width: 46 inches

Naturally Dyed
Hand Dyed
Ethically Made 
Sustainable 
Zero Waste
Handmade in India
This product has been hand dyed naturally using elements of nature like roots, flowers, leaves, seeds and minerals. Therefore, each product is unique due to the slight imperfections and irregularities which occur during the natural dyeing process.