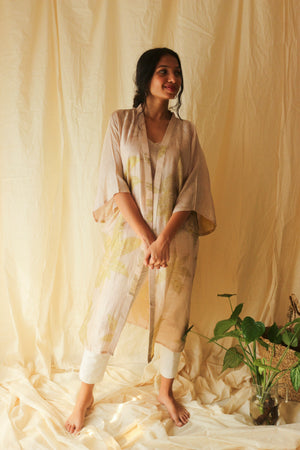 Castor Leaf Silk Kimono
Sale price Price Rs. 3,850.00 Regular price
This Mulberry Silk Kimono has been hand dyed using locally foraged Castor leaves and Sappan wood. 
All our kimonos our free size making it extremely versatile whether you are lounging in your house or going for a night out. The lovely handwoven and slightly translucent silk feels really luxurious and soft on the skin and makes you feel extremely relaxed.
Fabric: 100% Handwoven Mulberry Silk
Dyed with: Castor leaves & Sappan wood
Size (Inches): Length - 40 inches
Naturally Dyed
Hand Dyed
Hand Woven
Ethically Made
Sustainable
Zero Waste
Handmade in India
This product has been hand dyed naturally using elements of nature like roots, flowers, leaves, seeds and minerals. Therefore, each product is unique due to the slight imperfections and irregularities which occur during the natural dyeing process.