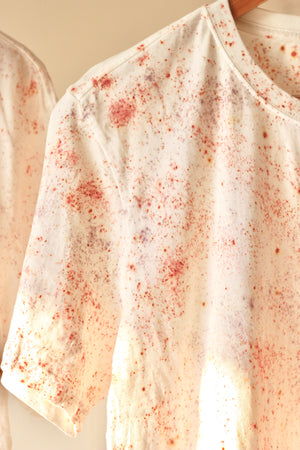 Speckled Plant Dyed Organic Cotton T-Shirt
Sale price Price Rs. 1,495.00 Regular price
The Speckled Plant Dyed Organic Cotton T-Shirt is tie-dyed using Indian Madder and Alkanet. It is the perfect T-shirt that you can wear all day every day. And it's just going to keep getting better the more you wear it. What makes it unique is that this is hand dyed with natural plant material, a lot of care and positive intention.  
Fabric: 100% Organic Cotton 
Hand-dyed with: Indian Madder and Alkanet
Naturally Dyed
Hand-Dyed
Hand Woven
Ethically Made
Sustainable
Zero Waste
Handmade in India
This product has been hand-dyed naturally using elements of nature like roots, flowers, leaves, seeds, and minerals. Therefore, each product is unique due to the slight imperfections and irregularities which occur during the natural dyeing process.