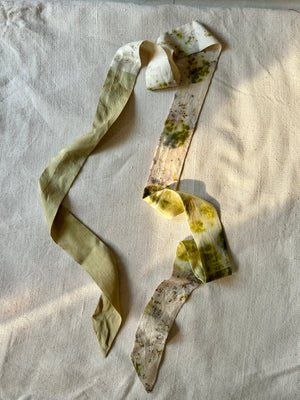 Hibiscus Green Silk Hair Ribbon
Sale price Price Rs. 575.00 Regular price
Introducing our exquisite Plant Dyed Silk Hair Ribbons, a delightful addition to your hair accessories collection. Crafted with care and creativity, these ribbons are not only stunning but also environmentally conscious as they are made from leftover fabric.
These silk hair ribbons are versatile and can be tied into a variety of hairstyles, from elegant bows to chic braids, adding a touch of sophistication to any look. The soft and luxurious texture of silk glides smoothly through your hair, preventing breakage and reducing friction.
Fabric: 100% Handwoven Mulberry Silk 

Hand Dyed with: Hibiscus, Margiold 
Naturally Dyed
Hand-Dyed
Ethically Made
Sustainable
Zero Waste
Handmade in India
This product has been hand-dyed naturally using elements of nature like roots, flowers, leaves, seeds, and minerals. Therefore, each product is unique due to the slight imperfections and irregularities which occur during the natural dyeing process.