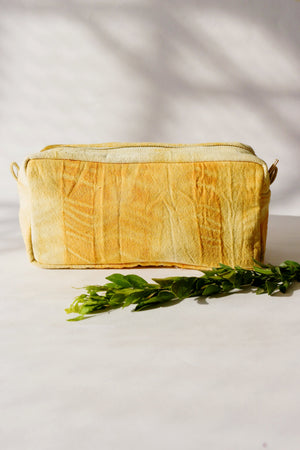 Flame of the Forest Box Pouch
Sale price Price Rs. 950.00 Regular price
A canvas pouch naturally dyed using Flame of the Forest flowers. It can be used to carry multiple things including stationary, toiletries, travel essentials, makeup, money and a lot more making it extremely versatile. 
Fabric: 100% Cotton Canvas
Dye Material Used: Locally sourced Flame of the Forest flowers
Size (Inches): 8 x 4.5   
Naturally Dyed
Hand Dyed
Ethically Made 
Sustainable 
Zero Waste
Handmade in India
This product has been hand dyed naturally using elements of nature like roots, flowers, leaves, seeds and minerals. Therefore, each product is unique due to the slight imperfections and irregularities which occur during the natural dyeing process.