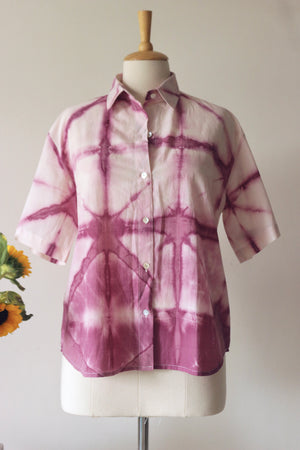 Itajime Lac Cotton Shirt
Sale price Price Rs. 3,250.00 Regular price
An effortless handwoven cotton shirt dyed with Lac using the Itajime technique. The cotton is light, soft and breathable. It's great for layering and you can also wear it on its own. 
The shirt has an oversized fit and is slightly cropped. 
Fabric: 100% Handwoven Cotton from West Bengal

Hand Dyed with: Lac
Please Note: This shirt has dual sizing. It is also made to order which means that it will be hand dyed & stitched after your order is placed and will be dispatched within 3-4 weeks. For any alterations in measurements or custom measurements, please mention it in the note section before checkout. 
Naturally Dyed
Hand-Dyed
Ethically Made
Sustainable
Zero Waste
Handmade in India
This product has been hand-dyed naturally using elements of nature like roots, flowers, leaves, seeds, and minerals. Therefore, each product is unique due to the slight imperfections and irregularities which occur during the natural dyeing process.
Size Guide: Length - 26 inches; 
Chest - S/M - 46 inches    L/XL - 52 inches